Choosing the right community for your family can seem overwhelming. You might ask yourself what is the most important criteria for your family, is it kid-oriented activities nearby, beautiful green spaces, schools or a community that offers a variety of home styles to fit your needs? In Belmont, one of Calgary's newest family friendly communities, you can have all of the above.
Belmont Mounds of Fun Playground and More Future Greenspaces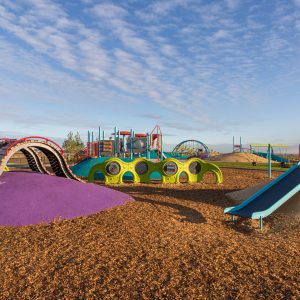 Tired of hearing, "There's nothing to do…" from the kids all day? When you choose Belmont to call home, you can leave this question in the past. In addition to planned facilities like schools, a mixed use site and commercial/retail complex coming to the southwest corner of the neighbourhood, entertaining the kids is going to be a breeze. For the little ones, a finished state of the art playground called Belmont Mounds of Fun is completed and ready to enjoy. With 5 playgrounds and 40 acres of parks and pathways planned to link the community together – Belmont has so many ways to burn the endless energy of childhood. Older kids and teens can stay busy with hiking and bike trails, a recreation centre, golf course and multiplex, all nearby.
Recreation Centre
Belmont is home to a future City of Calgary recreation centre that you and your family will be able to walk to. It will be located off of 210th with easy access for your family. While you wait for it to be built, the Cardel recreation centre is only a six minute drive from your home in Belmont. They offer everything from skating to badminton, and just about every kind of community class imaginable, so you'll always have choices when it comes to recreation.
School Sites
Belmont is home to two future schools nearby. One of the schools will be a high school that will be adjacent to Belmont and have a joint field space with the future recreation centre, making it easy for your teens to stay active and healthy! While you wait for the new schools to be planned and constructed, your kids won't be able to walk to school quite yet. In the meantime make sure to check the Calgary Board of Education and Calgary Catholic School District websites to see all the other nearby schools.
Townhomes, Laned and Front Garage Homes for Any Size Family
Belmont offers a variety of home choices and styles to suit all families. Whether you're looking for a family friendly townhome, a flexible laned home, or a spacious front garage home to fit your growing family – Belmont has it all. When you build in Belmont, there is no sacrifice for affordability and no absence of choice. Explore what our reputable builders have to offer.
Belmont is a blossoming family friendly community. With a state of the art playground already built, future schools and recreation centre, and plenty of amenities already nearby in Southwest Calgary, it is sure to be the perfect community for any family.